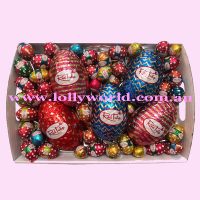 When you plan a holiday the anticipation can be overwhelming and having to wait 12 months feels like an eternity. And then… GONE.
It had been a few years since we had the opportunity to travel and I was so looking forward to going to Hawaii. Sun, beaches, shopping, Pearl Harbour, shopping, Jurassic Park, Mai Tai's, shopping. It now all seems like a lifetime ago. March!! only 8 weeks until Easter, the biggest time of the year for this little lolly shop, and already well into packing up the bulk mini eggs and creating Easter gift boxes. How does the time go so fast?
Easter gift boxes are a very popular gift item for Easter and there are a few pre-made to make it easy or let us know the items you would like included and we can custom make one.
Click on Easter and check out all the wonderful chocolate delights.