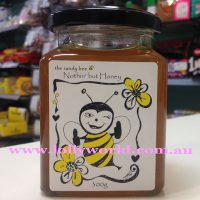 Save the Bees – Bee the Cure
This is a cause very close to our heart. Behind the scenes at Lollyworld, we are the randy bee, and our honey is Nothin but Honey. We have become avid beekeepers over the last 5 years. Starting with native bees purely for pollination (I have never had so many passion fruit!) But since having European honey bees it almost feels like a duty to expand the hives and keep them prospering. Thankfully they give us a lot of honey and we now have quite a few hives.
The problem can be solved if we all get involved. Support your local beekeeper! There are plenty of us, and the Bee the Cure site is the perfect place to find us. The honey map is such a great idea. Once you have had local honey without all the processes, you will always make the effort to purchase from a local beekeeper. We are very lucky to have a place like Lollyworld to be able to get our honey out there.
I love the different flavours we get each time we rob the hive. Can you believe I have never been stung! My husband has… you do not want to ask where… They can fly a distance of 10km.  Because we live in Pine Rivers, there are plenty of bush lands to choose from. Perhaps the latest taste is that of the Golden Penda, they are lining the streets and flowering like there's no tomorrow. We often go for a walk in the afternoon and see them buzzing away through these flowering trees. Try our honey in store or online at this link Nothin but Honey. We deliver all around Australia. You can choose from a 300g jar, a 500g squeezie bottle, and also a 1.5kg tub. Check out the honey map to see your local beekeeper The Honey Map