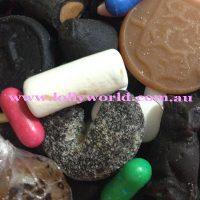 When we opened our store 7 years ago, the only product line I was not keen on taste testing was this Dutch Licorice. It had a very salty taste and chewy, stick in your teeth texture. I could not imagine why anyone would eat this as a 'treat'. Since then though, I would have to rate the Salmiak Rocks and Fruit Rockies in my Top 10. Never in a million years would I have thought this savoury 'lolly' would rate as one of my favourite lollies. The ones I like are the 'mild' of the range of Dutch Licorice.
Of all our online lollies, Dutch Licorice is easily our most popular. We have many regular customers purchasing this licorice treat from Holland. Often for themselves or also as a gift for friends and family. So, now that Dutch Licorice is here in Australia at Lollyworld, try it for yourself and see what all the fuss is about. Give it a go and you too might also be converted like I was 😉
Choosing 'Cool Protection' at the end of the checkout will keep your order in the best condition. We recommend this for chocolate products during the warmer months. Australia wide delivery on time, in perfect condition and in your belly.