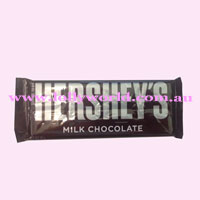 Hersheys Milk Chocolate Bar
Hersheys Milk Chocolate Bar a smooth creamy milk chocolate bar from America. You can purchase one 43g bar or a box of 36.
Choosing 'Cool Protection' in the shopping cart will keep your order in the best condition. A foam box and also an ice brick for only $8 for you to keep. We recommend this for chocolate products during the warmer months. Australia wide efficient delivery, in perfect condition then in your belly.