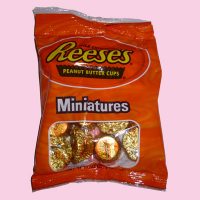 Reeses Mini Peanut Butter Cups
Reeses Mini Peanut Butter Cups are a classic American chocolate. The Minis are a great blend of chocolate and peanut butter. There is approximately 14 mini peanut butter cups in the 150g bag. There is approximately 130 pieces in the 1kg Party Bag.
Choosing 'Cool Protection' in the shopping cart will keep your order in the best condition. A foam box and also an ice brick for only $8 for you to keep. We recommend this for chocolate products during the warmer months. Australia wide efficient delivery, in perfect condition then in your belly.